Richmond, Virginia, the capital of the Old Dominion, is steeped in history, art, and culture. It's also a rising star in the culinary scene. With its perfect fusion of traditional Southern comfort and innovative gastronomy, this city offers an eclectic mix of dining experiences. Here's a list of the best restaurants that stand out in this vibrant city.
1. L'Opossum
Located in the Oregon Hill neighborhood, L'Opossum is characterized by its quirky and playful ambiance. The restaurant prides itself on its fun and flamboyant décor, featuring eccentric art pieces that'll surely be a conversation starter.
Culinary Fusion
The menu at L'Opossum is a delicious blend of French and Southern cuisine. Each dish, prepared with utmost precision, is a testament to the chef's creativity and passion. From foie gras sliders to vegan delights, there's something for everyone.
Cocktail Craftsmanship
Their cocktails are as inventive as their meals. With a wide selection of unique concoctions, each drink tells its own story, making your dining experience truly holistic.
2. Metzger Bar & Butchery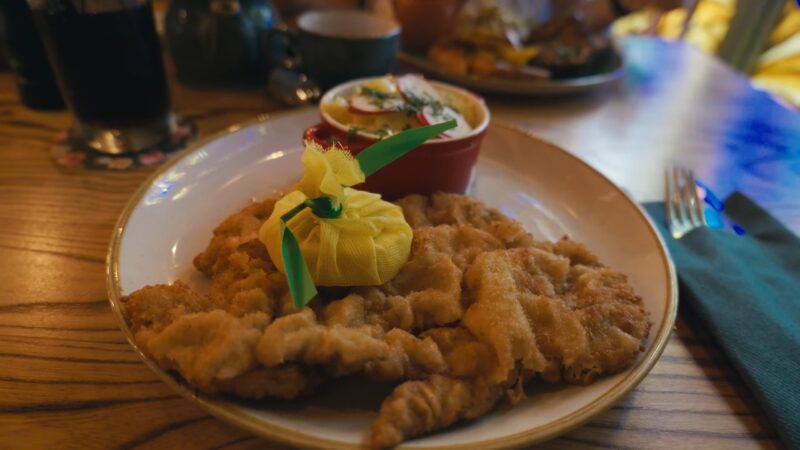 Metzger Bar & Butchery, set in a quaint corner of the Union Hill neighborhood, offers a rustic yet sophisticated setting. The exposed brick and wood finishes transport patrons to a cozy European tavern.
Authentic German Flavors
This spot celebrates German cuisine with a modern twist. From schnitzels to sausages, each dish is crafted with fresh, locally sourced ingredients, ensuring an authentic flavor profile that is both comforting and novel.
Wine & Dine
With a carefully curated list of wines, primarily from Germany and Austria, Metzger provides the perfect accompaniment to their sumptuous meals. It's the ideal place for a romantic dinner or a gathering with close friends.
3. Stella's
Stella's radiates warmth and comfort, making every guest feel at home. The interiors, inspired by Mediterranean aesthetics, are inviting and beautifully complement the cuisine.
Greek Culinary Delight
Specializing in Greek cuisine, Stella's presents traditional dishes that taste like they're straight out of a Greek grandmother's kitchen. Their moussaka, lamb dishes, and spanakopita are simply divine.
A Memorable Experience
Apart from the exquisite food, what makes Stella's stand out is their impeccable service. The staff ensures that every visit turns into a cherished memory.
4. The Roosevelt
Set in a historic building in Church Hill, The Roosevelt seamlessly merges vintage aesthetics with modern touches, creating an ambiance of timeless elegance.
Southern Gourmet
Their menu pays homage to Southern cuisine. The dishes, while rooted in tradition, are presented with a contemporary flair that showcases the chef's ingenuity.
Award-winning Selections
With a wine list that has earned accolades, The Roosevelt offers a delightful wine-pairing experience, making every meal a celebration.
5. Heritage
Heritage, with its intimate setting, feels both contemporary and cozy. The chic décor is a beautiful backdrop for a delightful culinary journey.
Innovative American Cuisine
Their menu showcases modern American dishes that are a beautiful blend of flavors and textures. Crafted with love and creativity, each dish is a masterpiece.
Artisanal Cocktails
Heritage is renowned for its artisanal cocktails that complement its food offerings, ensuring a comprehensive dining experience.
6. Alewife
Alewife, adorned with intriguing art pieces, offers an ambiance that is both eclectic and captivating. The space feels both artsy and intimate.
Sustainable Seafood
This spot is celebrated for its commitment to sustainable seafood. Their offerings, sourced responsibly, are a treat for seafood aficionados.
Natural Wine Selection
To accompany their dishes, Alewife presents a curated selection of natural wines that resonate with their sustainability ethos.
7. Mama J's
Mama J's feels like a comforting embrace. The homely ambiance, characterized by vintage touches, is reminiscent of classic Southern homes.
Soul Food Heaven
Mama J's offers traditional soul food that warms the heart. From fried chicken to catfish, their dishes are the epitome of comfort food.
Warmth & Hospitality
What adds to Mama J's charm is the warmth and hospitality of the staff, ensuring every diner feels like part of the family.
8. Brenner Pass
Brenner Pass, inspired by the Alpine region, offers a setting that is both rustic and refined. The interiors, with wooden beams and soft lighting, create a serene atmosphere.
European Delicacies
The restaurant specializes in Alpine-inspired dishes, offering a delectable range of European delicacies that are both rich and flavorful.
Spirited Beverages
To accompany their food, Brenner Pass boasts a diverse selection of spirits, wines, and cocktails inspired by European flavors.
Street Food & Food Trucks
Dynamic & Diverse
Richmond's street food scene is as diverse as its restaurant offerings. As you meander through the city streets, you're bound to come across a plethora of food trucks serving everything from gourmet grilled cheese sandwiches to exotic international delicacies.
Local Favorites
Among the local favorites is Boka Tako Truck, renowned for its innovative fusion tacos. Then there's Goatocado, which offers healthy and delicious quinoa bowls that are both filling and flavorful.
A Community Affair
Food trucks in Richmond often come together for weekly or monthly events, creating a community gathering filled with music, laughter, and of course, mouth-watering food.
Farmers' Markets
A Celebration of Local Produce
Richmond's farmers' markets are a testament to the city's commitment to fresh, local produce. These markets are not just places to shop but are events that bring the community together.
South of the James Market
One of the most popular markets, the South of the James Market, operates year-round and offers a wide variety of produce, artisanal goods, and even food stalls.
Connecting with the Source
Visiting these markets gives one a chance to interact directly with the farmers, understand the origin of the produce, and get insights into the best picks of the season.
Richmond Food Festivals
Broad Appetite
Taking place annually on West Broad Street, the Broad Appetite food festival showcases the best of Richmond's culinary scene. With over 60 local restaurants participating, it's a gastronomic extravaganza.
Richmond Bacon Festival
For those with a penchant for the savory crunch of bacon, this festival is a dream come true. Featuring dishes from various local restaurants, each offering its unique twist on this beloved ingredient, it's a day of indulgence.
Engaging & Educational
Apart from indulging in delightful dishes, these festivals often host workshops, cooking demonstrations, and interactive sessions, making them both engaging and educational.
FAQs
How Has Richmond's History Influenced Its Culinary Scene?
Richmond's rich history, particularly its roots in colonial times and its pivotal role during the Civil War, has significantly influenced its culinary traditions. The city's southern heritage shines through its love for comfort food, while the influence of European settlers can be seen in the myriad of international cuisines available.
Over the years, as Richmond became more diverse, the culinary scene evolved to include a fusion of flavors, reflecting its multicultural populace.
Are There Any Culinary Schools or Workshops for Those Keen to Learn Richmond's Traditional Dishes?
Yes, Richmond boasts a number of culinary schools and workshops. Institutions like the "Culinary Institute of Virginia – Richmond" offer formal culinary education.
Additionally, many local chefs and restaurants organize workshops and cooking classes where enthusiasts can learn traditional as well as modern Richmond dishes.
What Are Some Traditional Richmond Dishes that Every Visitor Must Try?
While Richmond offers a vast culinary landscape, some traditional dishes that visitors should not miss include Virginia ham biscuits, Brunswick stew, Chesapeake Bay blue crab, and, of course, classic southern fried chicken.
Pair these with a local craft beer or Virginia wine for an authentic Richmond experience.
Are There Specific Restaurants or Dishe For  Vegetarians, or Those with Gluten Intolerances?
Absolutely! Richmond's culinary scene is inclusive and caters to a range of dietary preferences. Many restaurants, like L'Opossum, offer vegan and vegetarian dishes.
Moreover, there are dedicated vegan spots like "The Daily Kitchen & Bar." Most restaurants are also accommodating to customizing dishes for gluten intolerances, and some even have specialized gluten-free menus.
Beyond the Restaurants and Food Trucks, Are There Any Food Tours Available for Visitors to Richmond?
Yes, Richmond offers a variety of food tours that provide a deeper dive into its culinary history and culture. Companies like "Real Richmond Food Tours" organize walking tours that take participants through historic neighborhoods, offering tidbits of history while stopping at various eateries to sample dishes. It's a unique way to explore the city and its flavors.
How Has the James River Influenced the Culinary Offerings in Richmond?
The James River has been a lifeline for Richmond, providing access to fresh seafood, particularly fish and shellfish. Many local restaurants pride themselves on offering dishes made from fresh catches from the river.
Additionally, the river's picturesque setting has influenced the ambiance of riverside restaurants, creating dining experiences that are as much about the views as they are about the food.
Final Words
As you can see, Richmond's culinary landscape is rich and varied. Beyond the curated interiors of its top restaurants, the city pulses with a vibrant street food culture celebrates its produce through farmers' markets, and hosts food festivals that are both indulgent and insightful.
So, the next time you're in this city, don't just dine – immerse yourself in the city's food culture and let it tantalize all your senses.